CoinFest 2016
United Kingdom
CoinFest UK stole the show this year with a massive event at MadLab, a center of innovation in Manchester that does, of course, support crypto. Organized by Adam Rizvi, founder of Crypto Bates Group, it was widely anticipated as the first CoinFest on British soil, and amassed hundreds of pre-registrations. Guests came from all over the world!
All manner of talks and presentations were held for both cryptocurrency newbies and aficionados. The show floor was even more popular, with booths from all the sponsors and cool demonstrations like Bitcoin nodes, debit cards, games and other exciting new innovations from the altcoin sector. There was also all manner of accessories and memorabilia available, as well as prizes and a raffle into which each attendee was automatically entered.
The Netherlands
The Netherlands was a hotbed of activity during CoinFest 2016, especially in the city of Amsterdam. It started on April 5 at the Old Amsterdam Stock Exchange, organized by Bitcoinference. April 6 featured an event by Bitcoin Wednesday, with more presentations at Lab111—one of the major highlights was Andreas Antonopoulos, whom they hosted for the International Hangout.
CoinFest also returned to Arnhem, the Bitcoin City. Boasting over 100 Bitcoin merchants including a Burger King, it is arguably the most Bitcoin-friendly city in the world, and celebrates all things crypto. The 2016 gathering was held at the Brownies & downieS, one of many Bitcoin venues in the district.
Switzerland
Nestled in a scenic valley in the French-speaking part of the country, the small town of St. Imier is home to La Décentrale, a community space fostering permaculture, cooperative models, decentralization and other innovative projects. They opened their doors to CoinFest celebrants for all 6 days, with people coming, going, and often staying the night. They took part in all of the decentralized activities and streamed a presentation about FairCoin.
Canada
CoinFest spread to Niagara for the first time, home to one of the world's greatest natural wonders, where workshops were held to educate the public on practical Bitcoin use. CoinFest was also held again in Vancouver, as is tradition, but hosted entirely at the community space at Richards and Pender. We used it as a headquarters for global CoinFest operations, allowing anyone to get an inside view of the decentralized convention in action.
United States
2016 was the year CoinFest finally reached American soil, which it did in full force. The largest event was in Washington DC at the General Assembly. It included free drinks and presentations from notable speakers like Elizabeth McCauley of Coinsecure, with topics including Bitcoin's benefits for developing countries and the registration of land titles and other property on the blockchain.
There was also a barbeque and party in Orange County with free drinks and prizes, courtesy of Airbitz and Tim Tayshun, and smaller events across the country. CoinFest Midwest covered Kansas City and Omaha, eMunie held a presentation at a library in Washington state, and the Synereo team put some virtual hangouts together in Tampa Bay, Florida.
Chile
The team behind Fort Galt has long been interested in participating in CoinFest, but construction of their entrepreneurial community has yet to be completed. They've been working hard to spread Bitcoin adoption in the nearby city of Valdivia, however, and will soon have beer for sale for BTC, so they decided to celebrate at a local Bitcoin pub.
Ghana
Repeating his success from 2015, Afrikanus Kofi Akosah Adusei of the AYPC held another gathering at the Queen City Restaurant in Kumasi. A generous sponsor provided free drinks to everybody, and everybody enjoyed the free prizes from the global activities. About 70% of attendees received their very first Bitcoin wallet!
Asia
For years, people had been asking when CoinFest would arrive in the East, and finally their calls were answered. The Seoul Bitcoin Meet Up group was the first to throw their hats in the ring, and met to participate in the decentralized activities. Soon, BTCC—a Chinese company that provides exchange services, a pool, wallets and more—decided to organize an event at Shanghai Center, where they had a presentation, prizes and coffee for Bitcoin.
Moving to the southwest, CoinFest also broke new ground in India thanks to the welcome support of Coinsecure, and Indian Bitcoin exchange and wallet provider. Alongside the team behind Airbitz, they held discussions to educate the public about Bitcoin's use and benefits at the Center for Internet and Society in Bangalore, where mainstream knowledge is still very limited.
Decentralized Activities
CoinFest 2016 included a variety of geographically decentralized activities designed to unite the simultaneous events around the world, foremost among them being the International Hangout. The above video shows a few of many virtual presentations that were beamed to audiences around the world via projector screen, as well as anyone who wanted to watch at home via YouTube. They ran on multiple days and were broadcast on Twitch via the Synereo team.
Tim Tayshun also brought back the Wheel of Bitcoin, with prizes like a BitNation-brand hardware wallet, 100 trillion Zimbabwean dollars, and of course some mBTC. Cryptocurrency-integrated video games such as Grabbit, Huntercoin and TurboCharged held online tournaments with coin prizes, and Airbitz gave away wallets pre-loaded with a few USD worth of bitcoins each!
Sponsors
CoinFest Global managed to raise more than 4 bitcoins this year, all of which were either used for decentralized activities or saved for the future. Our biggest sponsor was eMunie, who not only contributed 1 BTC but also sponsored and volunteered for local events such as CoinFest UK. Other sponsors included:
Africa
CoinFest Africa was the most challenging to pull off by far: the Bitcoin ATM we shipped to Botswana was delayed, which combined with funding problems to force the postponement of activities. This turned out to be a blessing in disguise, however, as new countries had time to join the fun.
Botswana
Our Skyhook Bitcoin ATM from the Taurus Bitcoin Exchange arrived safely in Gaborone, bringing crypto to the people, but unfortunately not in time for CoinFest. Regardless, dozens of people came out for the event to learn what the fuss is about, and CoinFest Botswana received generous donations from Tim Tayshun and Sinclair.
Ghana
Ghana was a hotspot of activity during CoinFest, occuring in two locations. Dream Bitcoin Foundation managed to raise a bunch of BTC to promote decentralization, and took a lead role in promotions. Africa Youth Peace Call also held a professional workshop on Bitcoin geared towards entrepreneurs.
Tanzania
CoinFest Tanzania formed at the very last minute, but managed to be a huge success thanks to sponsors like BitSafari and AutoNet. They broke Bitcoin down in both English and Swahili, and had giveaways including a Bitcoin Wheel of Fortune. Major thanks to Bitcoin Tanzania for their efforts.
Latin America
When CoinFest expanded out of Canada, it skipped the United States and kept going south. South America was the second continent to join the CoinFest movement, and it took things to another level.
Argentina
With sponsors like BitPay, Bitcoin Argentina at the Buenos Aires Bitcoin Center was able to spread the word far and wide. They had a conference geared towards new adopters, and workshops and discussions alongside. Then they hit the streets with Mr. Bitcoin himself, followed by a barbeque with the Rise and Rise of Bitcoin projected onto the building nearby.
Colombia
The Bitcoin Foundation of Colombia brought some new innovations to CoinFest. Like others, they had Bitcoin merchandise, food drinks available for Bitcoin, and a Bitcoin ATM. What set them apart, however, was their development of CoinFest's blockchain-based attendee cards, based on Bitnation technology.
Brazil
Fortaleza was the first city to bring CoinFest outside of Canada, and thereby the first in Latin America. Although not all of their original projected goals were met, they had the backing of the Cryptor Foundation. Helio Silva pulled through to educate the people of Brazil on cryptocurrency on its most celebrated weekend of the year!
Europe
CoinFest first landed in Europe via Rome, but plans there fell through. Nontheless, Europe continued on, particularly in its north and east. They demonstrated the true Spirit of CoinFest.
Russia
Russia was given full blessing to organize events at fiat-only venues, due to the ongoing Bitcoin ban. The Cryptocurrency Foundation of Russia found a Bitcoin venue, anyways. When questioned, Igor Chepkasov insisted that "Putin is huilo."
Finland
The Bitcoin community is thriving in Finland, but CoinFest still had some obstacles. Andre Juselius pulled through despite many problems including hospitalization with a heart-related episode, and they had an awesome conference.
Estonia
CoinFest Estonia was one of the last nodes to join CoinFest 2015. They managed to put together some great presentations in no time, having their own Bitcoin venue available. It wound up hosting one of the most popular events–thanks to the organizers!
Other Cities
The Bitcoin Foundation of Ukraine brought CoinFest there, as well; Maksym Krupyshev organized a Satoshi Square in Kiev, the first such event to occur at CoinFest. CoinFest also spread to Arnhem Bitcoinstad, also known as "Bitcoincity." They had an entire neighborhood of Bitcoin venues, which is the perfect setting to celebrate CoinFest in true decentralized fashion.
Canada
2015 will be remembered as the year CoinFest left Canada. Vancouver was dethroned as the center of activity, giving way to a more decentralized future. Canada still put on a good show, however, with at least 3 cities participating.
Vancouver
CoinFest Vancouver was an ambitious project, involving multiple venues across the city and culminating in a conference at the Sandman Hotel. All of our hosts accepted Bitcoin, and we proudly promoted Bitcoin adoption via creative methods at each event. There were fewer enthusiasts in attendance this year, but Bitcoin Poker and the hangouts at Decentral Vancouver were popular.
Other Cities
Edmonton was lost, but Winnipeg and Toronto carried on with celebrations at Bitcoin venues of their own. Directors and members of the Bitcoin Alliance of Canada brought CoinFest to to Santa Lucia Pizza in Winnipeg and the Decentral headquarters in Toronto. Anne Connelly presented on Bitcoin charity, in partnership with her non-profit Dignitas International.
Lead Sponsor
Our biggest sponsor for CoinFest 2015 was the Taurus Exchange, a cryptocurrency exchange based out of Vancouver. They donated the Skyhook BTM we sent to Botswana. Thanks, Yuri Yerofeyev!
CoinFest 2014
Vancouver
CoinFest was founded in Vancouver, where it was last spearheaded by Andrew Wagner of the Bitcoin Co-op. This was where the idea of a decentralized convention was first put into action, with 5 different venues downtown. Here are some highlights:
Trade Show and Media Hall
Organized by Liza J. Lee of Lead Gen Communications, the trade show had a podcast tent, Bitcoin artists and buskers, a Bitcoin auction of various artwork, information booths, and more!
Hardware and Mining Demo
Here CoinTrader unveiled the first Dogecoin ATM in the city, and showed off their existing Robocoin BTC ATM, which was the world's first. We also had Bryan Hellard of Newnote Miners demonstrate Bitcoin mining equipment, and Crypto Think Tank came to demonstrate Scrypt miners, as well!  There was a lot going on.
Decentralized Doge Party
Thanks to the Decentralized Dance Party, we had a roaming dance party in celebration of the Doge. We had a rocket to take us to the moon, which lifted off at India Gate Restaurant and Bar before crashing at Decentral.Bangtown. This video explains it better:
Conference
We organized a conference on the second day in partnership with the SFU Bitcoin Club at the Segal building. There was an enlightening presentation by Vitalik Buterin, a rousing sermon on Doge by Gary Lachance, and all manner of cryptocurrency-related discussion. See the full footage:
Edmonton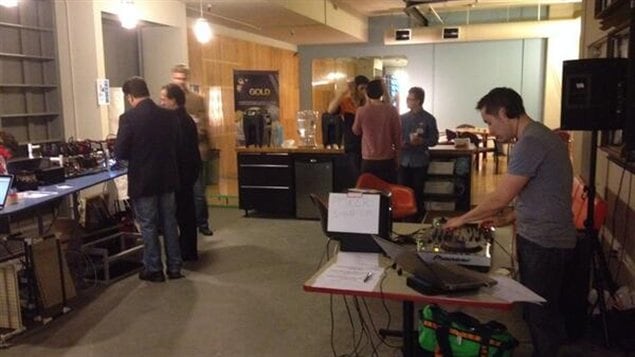 CoinFest Edmonton was held at the offices of a local Bitcoin business, and organized by Bitcoin Pete; he signed up Remedy Cafe, the first food/beverage chain in Canada to accept Bitcoin. They had some nice hardware demos and a presentation. Check out his website at http://bitconomy.ca/
Winnipeg
Now a director of the Bitcoin Alliance of Canada and returning for CoinFest 2015, Josh Nekrep put Winnipeg on the map by helping orchestrate the launch of the city's first Bitcoin at Canada's first pizza place to accept Bitcoin. They also had a presentation and discussion. Check out his website.
Lead Sponsor
Major thanks to Bitcoiniacs–now CoinTrader–whose generous contributions made CoinFest 2014 possible. They brought the world's first Bitcoin ATM to Vancouver, and now run an international Bitcoin exchange as well as brokerages around the world.
Other Sponsors
We also had other generous sponsors, such as: